Going to join Brenda in her Pondering With a Purpose this week. No more pictures, going to do some writing today....

It's that time of year again! Time to make a resolution for the new year, already? Yup! We'll if any of you remember my last New Year's resolution was to listen to the song Rome from the B-52's everyday until the end of the year. I got to March and forgot to listen to the song and ended up getting tired of listening to it.
Now it's time for another New Year! I don't know of any New Year's resolutions to make except to manage my time and finances a little bit better, like food and gas etc; gas for my new car! I'll tell y'all later in my next post!

Anyway....

Joining Brenda in her Pondering with a Purpose, click the box below to join in, or see other entries.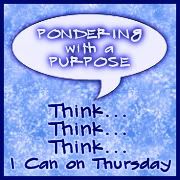 "/>