Time for another Pondering With a Purpose!
Punishment, how do I punish the one's I love,
Well... I don't because the one's I love are cat's and when they do something wrong they're completely oblivious to it and it wouldn't help them to punish them. For instance i'm currently trying to type this post with my laptop barely hanging off of the desk because Simon is sprawled out across it. Should I punish him? No, why because it wouldn't help him to understand what he is doing wrong by punishing him. So I just let him sleep there until he moves off.
Sigh.... he will eventually! Like now! No... he's just moving closer to the computer.
Joining Brenda in her Pondering With a Purpose, click the box below to join in or, see other entries.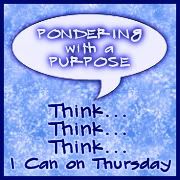 "/>