This week's Pondering With a Purpose focuses on blogging ruts, do you feel like you are stuck in a rut? We'll I do, sometimes making the same posts over and over again can get tedious and then boring. I've had to change my posts every so often because I got tired of doing the same posts over and over again. I felt like I was in a blogging rut and I wanted to get out of it so, I stopped making those same posts and started making different ones, like the ones that I want to make.
I've actually been getting in kind of a rut recently but, a different kind of rut, a time rut. I try to keep up with a couple of memes each week and I usually don't get to them in the time that everybody does them and I feel like i'm in a rut. I can't ever find the time to do all the things that I want to do during the day so, I usually end up being late on my posts. Sometimes I just don't want to do them because i'm just so tired of trying to keep up with everything, stuck in a blogging rut....
Joining Brenda in Pondering With a Purpose, click the box below to join in or, see other entries.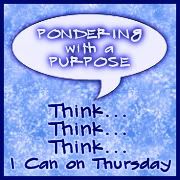 "/>