1. I love to listen to music when I need a pick me up!
2. No matter how hard I try, I just can't find the best song, once I find a song that I think is the best, I find one that is better.
3. A warm summer day makes me feel all warm a fuzzy.
4. I can't resist a sale on video games.


Joining Hilary in her Follow Friday Four Fill in Fun, click the link below to join in or, see other entries.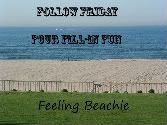 http://www.feelingbeachie.com/